Joanna Jet and Jamie Paige
Once again, Joanna Jet is going to make a huge impression over you, now all together with Jamie Paige. Today, both babes were in the mood for something rock, so they dressed up in leather suits and latex lingerie, just to be sure that they will be hot enough for each other. At first they were kind of calm, they started to make out on the couch, kiss each other and shove their hands all over the place to touch their trembling bodies. As soon as they warmed up a little bit, they started to get to the more interesting kind of action, they started to go deep down, between their legs, with the exploring part.
As soon as she was hard enough, Joanna took her hard tool and she started to shove it, little by little and inch by inch into Jamie's holes, not before she made sure that she is wet enough to receive that colossal tool deep inside her. For that, there was some fingering action implied, so things are more complicated that you imagined. During the whole time, both babes were rubbing their tits, messing around with their erect nipples. You are going to have not just your mind blown so get ready to be super impressed by these two horny sluts that are going to fuck in front of you like they never fucked before in their lives! You have to see this nasty update and get comfy cause it will be fun! If you wanna see other sexy shemales fucking, check out the http://trannypros.org site!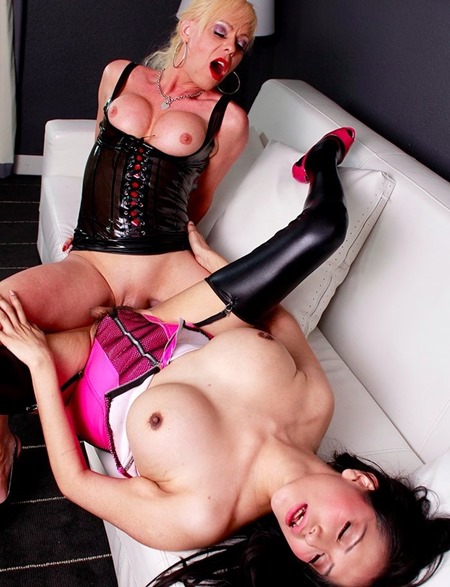 Take a look at Joanna roughly hammering Jamie!